Professional Alcohol Intervention Services
(Revised with FAQ)
Intervention for Alcoholics—A Complete Guide
Alcoholism is a devastating problem. Achieving total abstinence from alcohol is not easy. It is a harsh reality to face when giving up alcohol and accepting a life of sobriety. However, professional alcohol intervention services ease the alcohol-addicted person into the process.
We want to provide you with all the information you need to understand the benefit of the intervention. The information below provides an understanding of the professional intervention, strategies, and industry tips. It is never too late to intervene, and Newman Interventions can help.
Professional Alcohol Intervention Services
The average alcoholic believes they can stop drinking at any time and have their problem under control. But here is the kicker: it never ends with the average alcoholic stopping on their own. Alcoholism always progressively becomes worse.
Professional alcohol interventionists act as a guide to help family members develop an intervention strategy. Here is how we can help:
When you first contact Newman Interventions.

We want to do a brief screening and gather information, discussing the issues surrounding the alcoholic.

Discuss essential intervention tools.

The effectiveness of your family intervention involves knowing what intervention tools are available and how they could be implemented.

Discuss professional help options.

The most successful intervention tool is hiring a professional. Our ability to help an alcoholic enter treatment is because of our experience and training.

Plan and execute the intervention.

There are generally two pathways—We are hired to execute the intervention and ensure its success.

A family member or friend leads the intervention using our services for guidance.
Alcohol Abuse Intervention Strategies
The efficacy of an alcohol abuse intervention depends on an interventionist, family members, and close friends of the alcoholic. The cornerstone of any successful intervention involves everyone working together.
The general strategies deployed in the context of professional alcohol intervention services include some of the following:
1. Chipping away at the denial of the alcoholic.

a. Compared to other addictions, alcoholics are stubborn, and most do not admit they have a problem. There is significant denial because alcohol is widely accepted everywhere. Our job is to remove these barriers the break down the wall of denial.

2. Help the alcoholic realize the negative effects.

a. Alcoholism causes significant health problems; it impacts mental health, productivity, family life, professional life, and personal relationships. With the help of the intervention team, we help paint a picture clearly understood, reinforcing the need for treatment.

3. Create a supportive environment.

a. Our job is to help the alcoholic feel supported. The intervention team is comprised of supporting family and friends. The location of the intervention is a supportive and comfortable environment. Body language and speech are supportive. There is no judgment, only love, and support.

4. Present a detailed, structured, and attainable treatment plan.

a. Everything presented to the alcoholic regarding treatment makes them feel confident about accepting help and embracing change. There are huge barriers to overcome; the more detailed treatment solutions, the better.
Alcohol Intervention Professional Tips
Intervention for an alcoholic can be successful but requires planning and a specific process. Here are some professional tips to help the heavy drinker in your life get help.
1. Do not perform the intervention on the spot without any planning—this only works if there is an emergency situation.

a. Subsequent planning sessions with a professional interventionist or clinician help structure the intervention.

2. Know what other drugs they are using, like, opioid addiction, prescription drugs, or if there are any medical problems.

a. Knowing this prevents overdose and ensures the correct treatment approach is received.

3. Do not use the intervention to express anger, resentment, or frustration at the alcoholic.

a. Explain that you're worried about their health. Express a feeling of concern, and you do not want to see them hurt by alcohol.

4. Do not view the intervention as a method to force the person into treatment.

a. Take an approach of being empathetic and understanding. Offer two options instead of demands.

5. Do not make the consequences too weak.

a. For example, the only options are to attend an adult alcohol use treatment program or be kicked out of the house.
In addition, enabling the addict does not help them mentally or physically. Waiting for them to hit some type of rock bottom may also not be effective.
Have Alcohol Treatment Options Ready
As part of the planning stage and intervention strategy, you will need to assemble a list of quick, ready, and accessible treatment options. The management of alcoholism may involve:
Alcohol detox
12-step meetings
Alcohol rehab
Counseling
Sobriety support groups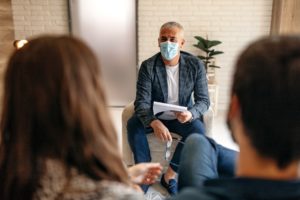 Organizing treatment programs is made easier when knowing what questions to ask. Typical questions for treatment programs include:
Do you accept health insurance?
How much does treatment cost?
How long is the treatment?
What type of counseling is offered?
Are they seen by a doctor, therapist, healthcare professional, or substance use counselor?
Importance of Early Intervention for Alcoholism
An intervention should never be viewed as a last resort, especially for alcoholism. Early intervention saves lives, and that is the point, to save the life of the alcoholic. Talk to them about their drinking. Refer them to resources about binge drinking or heavy alcohol use, making suggestions, and giving choices.
Family and friends need to realize that alcohol addiction is a severe problem, even if it does not involve daily drinking. The behavior does become worse. Early intervention strategies prevent the worse from happening. In addition, it begins to get them thinking about their drinking and how it is currently impacting their life and in the future.
Professional Alcohol Intervention Services: How We Help 
Timing is essential when it comes to speaking with your loved one about their alcohol use. We can offer a professional response to achieve the desired outcome. Our knowledge and expertise has helped countless families achieve a successful intervention. Contact us to find out how and regain some control.
According to the National Institute on Alcohol Abuse and Alcoholism, in 2019, 14.5 million Americans ages 12 and older had an alcohol use disorder. This includes 9 million men and 5.5 million women. In addition, it was estimated that over 400,000 adolescents ages 12 to 17 had an alcohol use disorder in 2019.
Unfortunately, only 7.2% of people ages 12 and older who have an alcohol use disorder received any treatment. In addition, only 6.4% of adolescents received any treatment. It is estimated that 95,000 people die from alcohol-related causes annually. Professional alcohol intervention services save lives, and we help your family get results.
We have written a video course to educate families prepare an intervention: this course teaches the exact steps and roles necessary to increase the probability of success of the intervention. No intervention is an easy process. When we lead a family intervention, we work with the members of the family to prepare carefully the unfolding of this intervention. They take this course to make this process easier and more successful. Even if you are not yet ready to commit to doing an intervention, we encourage you to take this easy-to-study video course. This will give you a full understanding of what is an intervention, how to prepare it, how to implement it, and what are the points of failure. The cost is reasonable. If you decide to resort to our professional alcohol intervention services to help you save your loved one, the cost of the course will be deducted from our service fee. Take advantage of this proposition: you will not regret having taken this active, easy step towards saving the life of the person fighting addiction.
What are some intervention techniques?
There are several common types of intervention techniques; here are three common approaches:
1. The Johnson Model

a. A classical style where family members and loved ones of a person struggling with addiction are confronted with surprise intervention to get them to agree to help. Planning involves a professional interventionist.

2. Invitational Intervention Techniques

a. An invitational model involves no surprises, secrets, or meetings. It involves family members and loved ones with the addict throughout the entire process. Generally, there is a supportive intervention network involved.

3. Family Systemic Intervention

a. An intervention technique involving the entire family to improve the inner workings of the family unit in order to foster recovery.
What are the solutions to stop alcohol abuse?
There are many solutions to stop alcohol abuse, but it begins with preparing for change. Depending on the severity of the problem, it may involve evaluating the costs and benefits of drinking. You may want to set goals and look at cutting back vs. quitting alcohol altogether. Finally, there are alcohol addiction treatment options to help you quit and stay sober.
What is the most effective treatment for alcohol dependence?
The most efficient treatment approaches for alcohol dependence include:
1. Behavioral Treatments

a. Therapy is aimed at changing behavior through counseling.

2. Medications

a. There are three approved medications in the United States to help people stop or reduce their drinking and prevent relapse.

3. Mutual Support Groups

a. Alcoholics Anonymous and other 12-step programs provide peer support. Combined with treatment, these offer a valuable added layer of support.
What does intervention mean for alcoholics?
An intervention for alcoholics means that it is a carefully planned process done by family, friends, and an interventionist. It is an opportunity for the family to show love and support to someone in desperate need.
When is an alcohol intervention appropriate?
An alcohol intervention is appropriate when the individual's life is becoming impacted negatively. They could be resistant to treatment, or they are open to the idea of treatment. Yet, the alcoholic's resistance to treatment should not be a barrier for the family when hiring a professional interventionist.
Is there a difference between alcohol abuse and alcohol use disorder?
An alcohol use disorder is a chronic disorder in the brain characterized by an inability to curb or stop alcohol use despite the consequences. This definition falls within the disease model of addiction. Alcohol abuse is defined as binge drinking or heavy drinking. It is a non-medical term to describe someone with alcohol dependency.